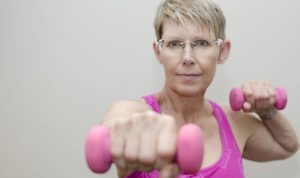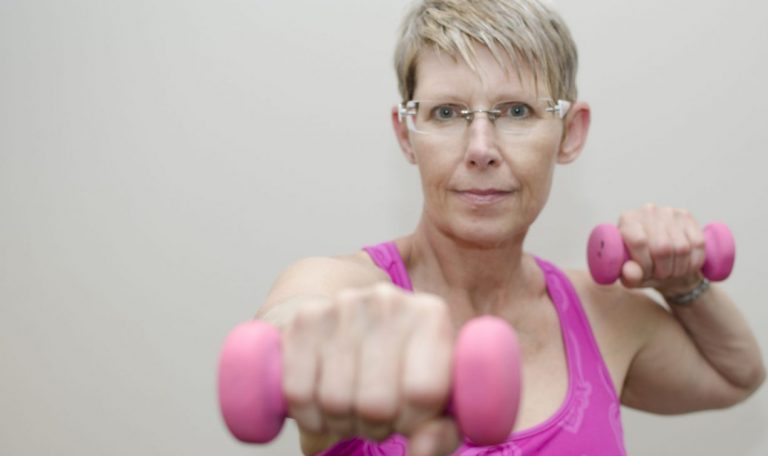 Sally MacDonald is an 'Older Adult Fitness Specialist' with over 15 years of experience!
CREDENTIALS:

S.F.I.C. certificate from the Canadian Centre for Activity & Aging, Western University. It's one of the most widely-acknowledged Seniors' Fitness Instructor Certificates.  She also holds numerous certificates from various Seniors' Fitness courses, programs & workshops; and continues to further her education on a regular basis.  She's currently enrolled in the Bellyfit 'Sage' course & Ottawa University's Heart Smart Course.
Sally is fully insured to instruct Seniors' group exercise classes as an F.P.A.O. Registered Fitness and Health Professional with the Fitness Practitioners Association of Ontario and is certified in First Aid & CPR.
EXPERIENCE:
Currently, Sally has 15 years of experience instructing Group Exercise Classes in various fitness facilities in Owen Sound.  To gain experience working with the older adult population; she originally became a V.O.N. volunteer instructor.  After completing several of their training programs; she was also mentored by several excellent Seniors' fitness instructors, in leading the S.M.A.R.T. (Seniors Maintaining Active Roles Together) Group Exercise Classes in our Community.  When she furthered her credentials, obtaining her S.F.I.C. Certification, she then became employed by the Grey Bruce V.O.N. as a paid instructor.  Her V.O.N. certifications include:  Fall Prevention Classes: Level 1 & Level 2 & the Parkinson's Class
NOW:
Currently, Sally is instructing 6-morning ZOOM classes from Mon to Sat at 10:30 am, she also runs 3-afternoon Zoom classes by video at 5:30 pm on Mon, Wed & Thurs.
These are LIVELY & FUN, 50+ / active seniors' cardio and strength classes; and senior's yoga classes.
See the CLASS SCHEDULE for full details.
HISTORY:
Like everyone, I have worked at various jobs throughout my life & found that many of them caused me injuries, problems & subsequent pain, some of it at that time, some later in life……delivery driver: neck & hips…..dance teacher: knees & hips…..desk job: neck, back & knees. 
I was at a loss to know which type of work I should try next to try to prevent further health problems. 
The answer came to me when I read an ad from the VON in the newspaper inviting 'me' to become a volunteer seniors' fitness instructor!  They were offering 8 weeks of FREE training, held once a week on Mondays.  I could become a certified VON Seniors' Fall Prevention Instructor if I agreed to volunteer 1 hour per week for 1 year, teaching a class; following my certification.  This sounded like a perfect way to launch me into a new career that would benefit my body, instead of harming it!  And, one that I could possibly do forever!  I became very excited at this prospect & registered for the program, booked off those 8 Mondays from my desk job & proceeded with great gusto to try something new!
As life would have it, after completing most of the course, I applied for a position as a Health & Wellness Coach, at a new health & wellness facility, soon to be opening up, & was hired!   I did not complete my volunteer hours after all (yet!). 
Deborah Dempsey & I trained together as we were the first 2 employees hired.  Our training in Barrie lasted for 4 weeks, 5 days a week, where we soon became good friends!  The training was extensive, we learned so much about vitamins & supplements, nutrition, diet & exercise.  My skill set was organizational, clerical & enthusiasm for sales; Deb was our exercise guru!  She taught me so much about fitness, cardiovascular & strength training exercises, yoga & the importance of stretching.   This program was fantastic & our clients thrived, lost weight, became happier & healthier; many became friends for life!
I soon began teaching classes myself & never looked back!  Having previously taught dance for 10 years, I was a natural & found this to be highly enjoyable & rewarding.  I became very fit & knowledgeable, and eventually became the manager! 
I loved my job but, sadly, after several years, the business closed up….so Deborah opened her own women's fitness facility, including a fully stocked gym, called A Woman's Journey – a Women's Fitness & Wellness Facility, where we continued working together for the next 6 years. 
I worked very hard learning more specifics about fitness, including weight-training with machines & hand-held weights, Yoga & Pilates, & so much more!  Basically, Deb gave me a free education in fitness, while I worked as the office manager/instructor teaching 3 evening classes. 
During one of our slow periods when my hours were reduced, I decided to reconnect with the VON again.  After all, without that first course, I would never have gotten into fitness!  I now had time to complete my volunteer hours & was eager to reconnect.  When I spoke with Dorothy Embacher at VON, she was pleasantly surprised when I was the first person ever to call & tell her that I 'owed her 1 year of teaching classes'!
We soon became friends but more importantly, she was willing to mentor me!  She opened my eyes to the world of older adults & the aging process, including the changes that our bodies go through. She made me realize that exercising helps the older generation stay vital & healthy!  I continued working for & mentoring under Deborah, while Dorothy was encouraging me to teach & instilling the desire to work with older adults!  I was now in my early 60's, still very fit & full of energy & teaching high-level classes.  However, learning so much about the aging body was re-shaping my thinking.  I began to wonder if I should be exercising at this high level myself?  I soon became a VON certified Fall Prevention Instructor of both levels, seated & standing classes.  I began volunteer teaching finally!  Working both jobs was completely fulfilling, but Dorothy kept working with me & encouraging me to continue my education!  She was the facilitator who mentored & tested me, while I achieved several more certifications through Western University's S.F.I.C. program. 
The next few years saw many changes to the world of Seniors' Fitness.  The government jumped aboard & VON was chosen to deliver their Fall Prevention classes, now known as the S.M.A.R.T. Program, in the community & now also in the Retirement Homes!  This meant that they needed MANY more instructors & that some of us would be PAID instructors!  I was SO glad that Dorothy had encouraged me to obtain all of the certifications necessary to be hired!  Within a few short months, I found myself teaching 18 classes per week!  I had given up my position as office manager, but continued teaching 3 evening Gentle Fit classes at the gym, that I had designed specifically for the '50+ women.'  In fact, Dorothy Embacher was a participant in some of these classes! 
Over time, I found my life becoming repetitive, so I made a few changes & started my own small business 'Sally Sunshine Gentle Fitness.'  I opened a few classes in condos & apt. buildings which became very successful.  This project has been so much fun, not to mention rewarding; from getting it off the ground, to watching it grow to 12 classes including Men's Weight Training, Chair Yoga, Women's Fitness Fun for 50+, Active Seniors & Seated Seniors.  For the past few years, I went from teaching 20 per week for V.O.N. to teaching 11 per week for myself!  I was happy to have variety, with several weekly classes in local retirement homes, more of my own classes in church halls, a community room in a local condo & several at a local seniors' centre &  more for the V.O.N.
Now that I am 68, I'm comfortable with 7 classes per week!  After the 2020 – 6 month pandemic layoff, I finally got my business up & running again in a much smaller way at a local church meeting hall.  To spread the masked, socially-distanced ladies apart, even more, I ran 6 weekly classes for 4 months.  Since the new year & tighter restrictions now as the second wave of the pandemic runs its course, I am happy to say I have launched another new chapter of classes…..ONLINE with ZOOM!
All former Sally Sunshine Gentle Fit classes are on hold & are now being held online!
YES! Seniors & older adults in our community are learning how to use technology to keep fit & active! We all need to be strong to remain as healthy as possible during this pandemic! Many of my former 'live' class participants are now successfully attending top-notch fitness training designed specifically for older adults & seniors, at my online classes using Zoom! Many suffer from diabetes, arthritis, and back conditions but find regular exercise helps them to feel better & achieve more out of their lives! They are using a variety of devices: desktop computers some with webcams some without, laptops, tablets, Ipads & even cell phones; some use HDMI cables to view their Smart TVs! There are numerous ways for YOU to access Zoom classes & work out safely in your home! No risk of germs, no risk of winter falls, no snow to clean off the car!
The knowledgeable staff at both the Source & Stapes are available to help you by phone & give you information & possibly sell you cables or devices, to get YOU set up to join in this FUN & worthwhile adventure!
Thanks again for your many years of encouragement, wisdom & inspiration: Deborah Dempsey & Dorothy Embacher! 
Being a Seniors' Fitness Instructor is a fabulously rewarding job that you can do for the rest of your life & I PLAN TO DO JUST THAT!  Who knows, maybe I'll make history & will still be teaching at 90!  Fingers crossed!